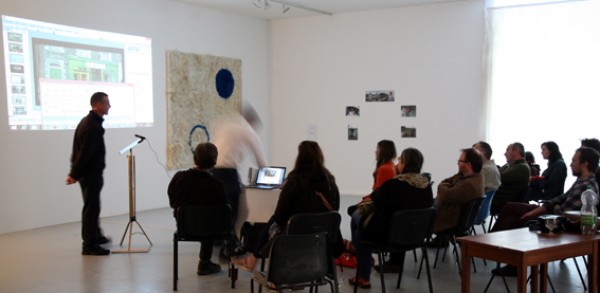 Powered by Pecha Kucha Leitrim 2015
Leitrim Design House in conjunction with the Dock, Carrick on Shannon and the Leitrim Sculpture Centre recently held 3 'Powered by Pecha Kucha' nights planned as part of the Year of Irish Design 2015. Pecha Kucha is a format of creative talks delivered by a speaker in 20 slides with 20 seconds per slide which gives a short flavour of what the individual is working on or what they are passionate about. Pecha Kucha talks are held at over 700 venues around the world usually with several speakers per night from a diverse range of creative backgrounds from Architecture, graphic design, film making to product design and the visual arts.
Leitrim based designer Leo Scarff has worked with Geraldine Gray from the Leitrim Design House on a series of 6 evenings drawing together creatives from across the North West. So far we've had Joel Smith – photographer and writer, Brigitta Varadi – Textile artist, Stuart Lawn – Fablab Manorhamilton, Seamus Dunbar – Performance artist and sculptor, Niall Walsh – Visual artist, Tomek Matusiak – Visual artist, Steve Farrell – Craft Brewer, Erika Marks – Jeweller, Dave Spence – Artist and product designer, Leon Quinn – Graphic and web designer, Colin McKeown – Film producer and festival organiser and Leo himself has given a talk on the evolution and construction of the traditional Mongolian Ger.
3 more events are planned for September and October this year with 18 more speakers planned for the two venues.
Many thanks to Geraldine and Glenda at the Leitrim Design House and Sean, Richard and Mary at the Leitrim Sculpture Centre for all their help in organising the events. Please check the Leitrim Design House on Facebook or Hiberform on Twitter for updates on upcoming speakers.
Sponsored by The Year of Design 2015.