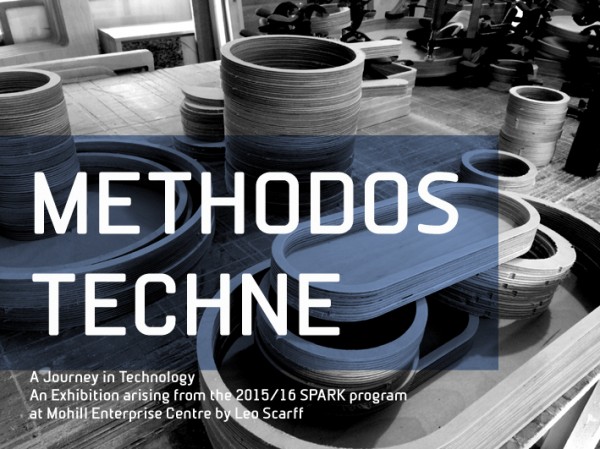 Mohill Enterprise Centre together with Leitrim County Council Arts Office and Local Enterprise Office Leitrim invite you to the opening of 'Methodos Techne'
6pm-8pm, Thursday 5th May Mohill Enterprise Centre, Knockalongford, Mohill, Co. Leitrim.
This exhibition 'Methodos Techne' is the culmination of the 2015/16 Spark Programme at Mohill Enterprise Centre where Hiberform designer Leo Scarff has been resident over the last six months.
As part of the Spark Residency, Leo developed a multi-layered digital art, craft and design project which harnessed the facilities at the centre – buildings, hardware, software; the knowledge and skills of the staff; and engagement with the local community, designers, craftspeople and artists. The resulting project has been part research, part brainstorming/capacity building workshops, part design/craft/art educational project and part artwork exhibition/installation.
All these elements combined over the course of the last six months to expand the repertoire of MEC across new disciplines, to explore and demonstrate the amazing local talent in the region, and to create a lasting repository of information which the centre can use into the future. The exhibition, which is housed in one of the enterprise units at MEC, consists of new work by Leo and the people he had been working with during the residency along with information about MEC and research into design theory collected by Leo over many years, which he has collated for this project.
The exhibition continues Mon 9th – Wed 11th May, 10am-4pm daily
SPARK is a partnership project of Leitrim County Council Arts Office and the Local Enterprise Office Leitrim supported by the Arts Council. It is aimed at artists who are interested in working in new environments and companies who are interested in collaborating with artists and promoting creativity within their organisations.
Leo Scarff is an artist, designer, design lecturer, consultant and exhibition curator originally from Dublin now based in Manorhamilton, County Leitrim since 2009. He has over 20 years experience in the art and design world, and has lectured on design and design history since 1999. Leo is a co-founder of the Fablab in Manorhamilton.
www.leoscarffdesign.com
Mohill Enterprise Centre provides a wide range of business and creative workshops focused on providing entrepreneurs with the latest tools and technology. The facilities provided at the Enterprise Centre include customised training suites, meeting rooms, creative space, and a range of workspace and industrial units.
www.mct.ie