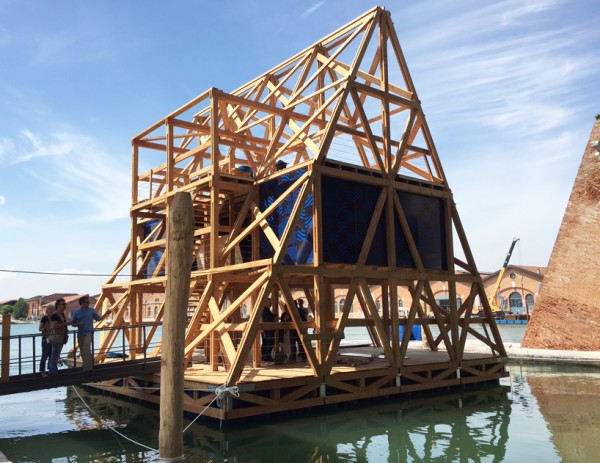 The best architectural project of recent times in our view.
What Architecture and Architectural Awards should be about !
NLÉ awarded silver lion for participant at the venice architecture biennale
During the venice architecture biennale, the silver lion for a promising young participant was awarded to NLÉ works (kunlé adeyemi) for the 'makoko floating school' 'for a powerful demonstration, be it in lagos or in venice, that architecture, at once iconic and pragmatic, can amplify the importance of education.'
Part of an extensive research called 'african water cities', the 'makoko floating school,' is a triangular form in section constructed with a parallel series of timber A-frames on a platform supported by emptied blue barrels. the three-storey structure contains classrooms on the middle level in enclosed volumes flanked by public green space and playground below, and an additional open-air rooftop classroom above. rooftop PV cells on the roof collect solar energy, coupled with water catchment systems make the dynamic educational facility partially self-sustainable. slender wooden slats create a shading device along the outer envelope along with well-ventilated spaces to maintain a comfortable interior environment.