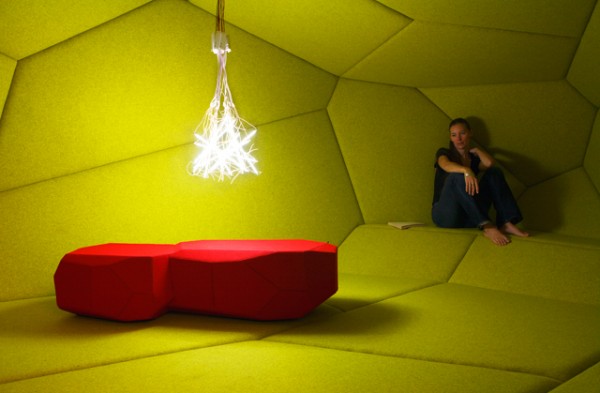 We still love this installation by Arik Levy for the 'Experimental Growth' Exhibition from 2013. Beautiful use of Kvadrat wool fabric also.
Coverage by Wallpaper Magazine from 2013:
Vicenza and its more famous neighbour Venice might remain submerged by floods this morning, but last week, the region was fortuitously blessed with good weather for the unveiling of designer Arik Levy's latest work at the Fondazione Bisazza.
Titled 'Experimental Growth', Levy's installation is an epic three-piece act that presents a futuristic vision of time and space. The exhibition centres around the impressive 'Rock Chamber', a multi-faceted single room construction, measuring a whopping 7.65-metres long and 6-metres high, covered with shimmering Bisazza tiles.
From one side, the angular site-specific structure gives the impression of a carbonised meteorite that has arrived on earth. The opposite façade reveals a hollow interior lined in chartreuse Kvadrat fabric and decorated with a FractalCloud lamp, also designed by Levy. The idea, explained the Paris-based Israeli designer, is that 'we are the prehistoric men of the future and this is our future cave.'
Despite its abstract, concept-driven nature, the installation is actually aimed at evoking a much more human reaction. Said Levy: 'What is important for me is to generate a jumping board in the experience for the people who come in. [This work] is quite in contradiction to the [other pieces] that are here already. It draws a completely new line for the Foundation's visitors. They come into a contemporary space, and there is a moment of not knowing where you are.'
The displacement aspect is another thing that Levy was allowed to express with great liberty. Adjacent to the main hall, the designer was given free reign to design and manipulate the existing physical architecture of the space within the Foundation. Levy redesigned its proportions, tinkering with walls to give them a slight curvature.
'My architectural idea was to have the walls start moving, and give the sensation that they are sliding down. It's only a hint – a sign that it's happening – and not everyone sees it but that's the beauty of it,' he said.
The new Levy Hall not only houses several miniature models of the realised Rock Chamber in the room next door, but also presents a video installation that interacts with visitors, visually changing according to the movements they make.
All rights Wallpaper Magazine
Read more at http://www.wallpaper.com/design/experimental-growth-by-arik-levy-at-fondazione-bisazza#2KMcApP3XBIHgD1u.99